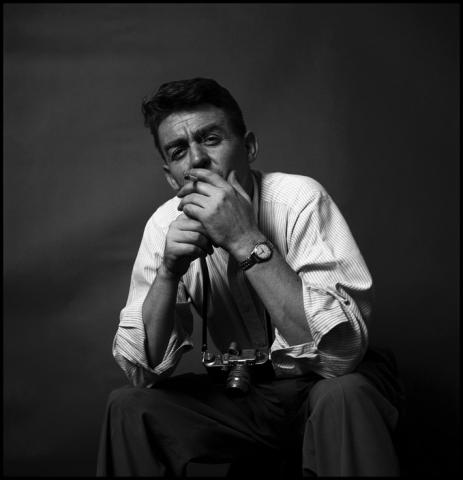 Homer Page (1918-1985) was born in Oakland, CA and became interested in photography as an adolescent. He enrolled at UCLA and then transferred to UC Berkeley and studied art.  In 1939 he met Christina Gardner, a photography enthusiast and married her a year later. Through Gardner he came to know Dorothea Lange, who was a family friend, and the couple and their newborn daughter even lived for a time in the garden cottage owned by Lange and her husband, Paul Schuster Taylor. Gardner also worked as Lange's assistant for a number of years.
    
During WWII, Page made photographs on the streets of San Francisco with a Rolleiflex camera, around the shipyards where he worked during the War, unable to fight due to a punctured eardrum. Lange suggested he send photographs to Nancy Newhall at The Museum of Modern Art (She was filling in for Beaumont Newhall while he was at war), who invited him to send more work as he made it. Ansel Adams wrote about one of his photographs in U.S. Camera magazine. By 1944 Page was working full time as a professional photographer, and in 1947 he taught photography at what would become the San Francisco Art Institute, where Ansel Adams was director of the department of photography along with his assistant, Minor White.
Through Lange, Page came to know Edward Steichen, who had taken over the photography department at MoMA. Page was included in various exhibitions Steichen mounted at the museum. In 1948, having moved to New York, Page received a Guggenheim Fellowship. In his application, Page said his goal was to "photograph the qualities of the relationship between urban people and the cultural forces which surround them." He also proposed creating a book of the work. Due to various circumstances, Page was never able to publish a book of the pictures he made during the year of his fellowship, but worked as a successful photojournalist, affiliating himself with Magnum for a short time, before settling in Connecticut later in life.
Source: http://www.howardgreenberg.com/artists/homer-page
Photo © Erich Hartmann/Magnum Photos