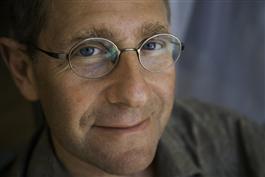 Stuart Franklin was born in Britain in 1956. He studied photography and film at West Surrey College of Art and Design and geography at the University of Oxford (BA and PhD). During the 1980s, he worked as a correspondent for Sygma Agence Presse in Paris before joining Magnum Photos in 1985.
Franklin's coverage of the Sahel famine from 1984 to 1985 won him acclaim, but he is perhaps best known for his celebrated photograph of a man defying a tank in Tiananmen Square, China, in 1989, which won him a World Press Photo Award. Since 1990, Franklin has completed over twenty assignments for National Geographic. His documentary photography has taken him to Central and South America, China, Southeast Asia and Europe. Since 2004 he has focused on long-term projects concerned primarily with man and the environment.
In 1999 he produced The Time of Trees, a photographic essay examining the social relationship between nature and society through the prism of trees. This was followed four years later by The Dynamic City, about the evolution and everyday life of cities. In 2005 he completed Hôtel Afrique, an exhibition on Africa's elite hotels (the book of the same title is in progress); the same year, aided by a grant funded by the National Trust, he published Sea Fever, a documentary project about the British coastline. Franklin is currently working on a long-term project on Europe's changing landscape, focusing in particular on the climate and on patterns of transformation.